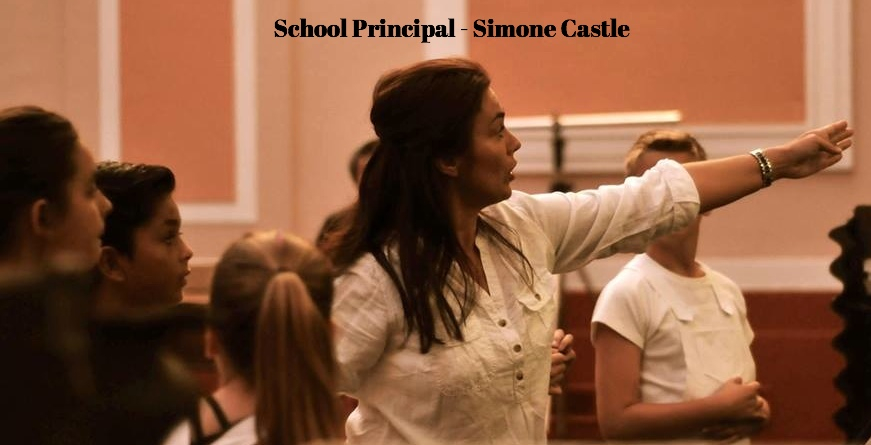 SIMONE CASTLE - Principal L.I.S.T.D, A.I.D.T.A
Modern, Tap, Jazz, Ballet, Musical Theatre
Simone trained at Bird Theatre College. After completing her training she went to perform professionally on stage for several years, performing at almost all of the major UK theatres and overseas before turning her hand to teaching. Credits include - The Rocky Horror Show (National tour/London), The Butterfly Children (UK tour), Top of the Pops, Children in Need (BBC)…to name but a few.

Stagestruck Academy was formed by Simone in September 2001. Since then hundreds of her students have taken exams up to professional standard with 100% pass rate, as well as performing in numerous shows in Germany, Wales, France, West-end and local theatres. Many of her students have gone on to perform professionally in Films, Television & the West-End.

Simone is also resident choreographer for Mardi Gras Promotions, teaching up to 1,500 children at one time. She choreographed the Disneyland Paris Parade routine for Mardi Gras and her choreography has been performed in prestigious venues such as Royal Albert Hall, O2, Sadlers Wells Theatre and Her Majestys Theatre London as well as Germany, France & numerous local venues!!
Simone is also part of the creative team for the award winning Youth Theatre Performerz which holds the Guinness Book Of Records for World's Fastest Theatrical Production, and also regularly provides students for I.S.T.D (Imperial Society of Teachers of Dance) demonstrations and classes throughout the U.K.
LEANDA SHELTON - A.I.S.T.D, A.I.D.T.A, DDI
Contemporary, Ballet, Hip-Hop, Music & Movement
Leanda began her training at the age of 2 years old and has competed in dance festivals and competitions all over England. At 16 she furthered her training at Performers Dance College, run by top choreographer Brian Rogers. Whilst at college she was Assistant Choreographer to Brian and choreographed fashion shows for TopShop, Next and other high street stores.

After leaving college Leanda performed with many pop artists such as Rozella and Sonique and performed in Pantomimes and Summer Seasons all over Great Britain. After several years of performing professionally, Leanda moved on to her first love-teaching, following in her parents footsteps, the founders of Elise School of Dance, Clacton. Specializing in boy's work, her students have won The Janet Cram Award at Senior and Premier levels for the last 4 yars. She regularly teaches at The Company, Clacton and has guest taught at many summer schools. Her choreography credits include Top of the Pops, R&B/Pop showcases, Summer Seasons, Hair/Fashion shows and various variety performances.
MELISSA WENN - A.L.A.M. Cert G.S.M.&D-L.G.S.M.
Musical Theatre, Drama
Melissa studied Drama at the Guildhall School of Music and Drama. She then went on to teach GCSE and A level Theatre Studies at the Clacton County High School and is now head of Drama at St Benedicts College, Colchester.

Melissa is the Director of the Youth Theatre Workshops in Clacton and has directed many plays and Musicals both here and abroad. She was head of Drama at Tiffany Theatre College, Southend for 5 years and also at Tiffany Stage Academy, Clacton for 18 years.

Each year over 100 of Melissa`s students pass Drama exams in Mime, Improvisation, Acting and Verse & Prose. In addition to this dozens of students gain places at Drama Schools or perform professionally on the stage, from the Mercury Theatre, Colchester to the West-end of London or on television.
Melissa is dedicated to teaching and directing young people in the performing arts, where the amount of talent throughout Essex never ceases to amaze her.
NIK GRAHAM - BA (Music)
Singing, Musical Theatre
Nick gained his Music Degree at Colchester Institute and then continued his training at Arts Educational School London studying Musical Theatre for a further 3 years.

After completing his training, Nick performed in Pantomimes, Repertoire Theatre and Operas both in the UK and across Europe. He was also a successful Entertainments Co-ordinator for a large Mayfair Restaurant as well as Musical Director and Performer on the national tour of `Time Of Our Lives`. Nick has also been in a Beach Boys tribute band - on Bass, Keyboards & Vocals.

Nick is now teaching Singing, Musical Theatre & Audio Technique at a number of schools and colleges throughout Essex and London and is Musical Director for Westcliff Stage Foundation as well as Stagestruck`s Musical Theatre Shows.
Many of Nick`s students are now performing in the West-end including George McGuire (the original Billy Elliott) amongst others. Nick also trained Leona Lewis, Jessie J, members of pop band S Club Juniors & The Saturdays.
KEITH GOLDSBROUGH - BA (Film Production & Creative Writing)
Drama, Musical Theatre
Keith started training at the age of nine years old at the Princes youth Theatre and Tiffany Stage Academy in Clacton-on-Sea. After finishing his A-levels he studied at the Tiffany Theatre College, in Southend, specialising in Drama and Musical Theatre. Once completing college, he performed for three years at Disneyland Resort Paris, and later went to work as an entertainments manager for a resort in Cyprus. He has performed locally from a young age, winning a NODA award in 2012 in the 'Best Actor' category for his role as Cosmo Jones in the musical 'Singing in the rain'. He went on to study Film Production and Creative Writing at Essex University and is currently teaching LAMDA exams at the Youth Theatre Workshops in Clacton. He has also the director of 'The Electric Theatre Company', an acting centre for adults in Clacton.
JOELEY BISHOP - A.I.D.T.A, DDI
Modern, Tap, Jazz, Street, Acro.
Joeley started dancing at Stagestruck when the school opened in 2001 when she was just 8 years old. She took all of her I.S.T.D. Modern & Tap exams up to Advanced 2 level and left at the age of 18 to continue her studies at university.
After leaving university, Joeley returned to Stagestruck as a qualified teacher, Stage Manager & resident photographer.

Having performed in many productions with Stagestruck Academy and Youth theatre Performerz, Joeley has taken on several principal roles in shows, including Scaramouche in We Will Rock You, Musnik in Little Shop of Horrors, Columbia in The Rocky Horror Show, Angie in Our House and has performed in numerous theatres as a dancer including Sadlers Wells, Her Majesty's & Royal Albert Hall in London, as well as performing in Disneyland Paris, Biberach (Germany) & Valence (France). Joeley is also resident dance teacher at Youth Theatre Workshops at the Princes Theatre in Clacton-on-Sea.
STUART ROUSE - DDI
Tap, Jazz, Modern
Stuart started dancing at Stagestruck Academy when he was eight years old. He then continued his training at the age of eighteen at Performers College in London where he gained his National Diploma in Dance Theatre and his teaching qualification.
Since leaving college, Stuart has had an extremely successful career in the Performing Arts industry. Credits include: Semi-finalist on Britain's Got Talent (Beat Brothers), Puttin' On The Ritz (Monte Carlo & UK tour), X Factor (dancer), Last Night A DJ Saved My Life (UK tour), An Evening Of Dirty Dancing (UK tour). Stuart has also worked with numerous pop artists including Mika & Pixie Lott.